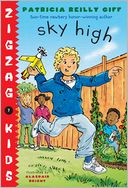 Charlie has many creative ideas and considers himself an inventor. When his most awesome invention, the Zinger Winger gets out of control, Charlie finds himself in a sticky situation, especially with the school's lunch lady.
Patricia Reilly Giff
writes an adventurous and humorous school story. A must read for invention fans! Take a look at the other titles in the Zigzag Kids series.
Join the Chapter Book Chat at Central and Casa Verdugo Libraries. We'll read the book together at the first meeting and then discuss it at the second meeting. Best for 3rd thru 5th grade. Check our Family Events or visit glendalepubliclibrary.org for dates and times.`